Our estheticians can evaluate your particular skin type and needs and will custom design a program of skin treatments and home use of professional facial products that will help to repair damage done over time. Your skin will be rejuvenated and stimulated to produce healthier collagen and elastin fibers and a smoother, glowing surface.
Our advanced skin care clinic offers FREE skin care consultations for all skin types including acne. Call 978-462-8300 to schedule an appointment.
Here are some of the products that we carry:
---
Epionce® Skin Care
---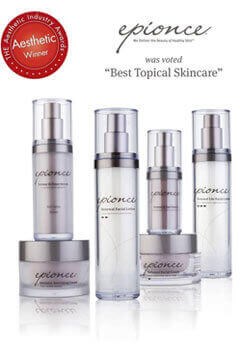 We just added the following epionce products:
Purifying acne wash
Purifying spot gel
Renewal calming cream
Cleanse & Prepare
Healthy skin starts with clean skin. Epionce Cleanse & Prepare products gently remove dirt, oil and makeup without irritating or drying out the skin, and prepare the skin before the application of other products.
Correct & Boost
Epionce Correct & Boost products help reduce the visible appearance of imperfections, smooth uneven texture, and minimize the visible appearance of signs of skin aging (fine lines and wrinkles and dark spots). The powerful Epionce technology also help to reduce the visible appearance of redness and irritation in the skin.
Renew & Fortify
Epionce Renew & Fortify products helps reduce the visible appearance of fine lines, wrinkles and dark spots. The result is smoother, softer, healthier-looking skin.
Protect & Prevent
Daily use of Epionce Protect & Prevent products helps to prevent premature skin aging and helps reduce the risks associated with UVA/UVB exposure. Epionce sunscreens are formulated for advanced daily protection from the sun while maintaining the most elegant aesthetic qualities – smooth application and no white residue. Ideal for sensitive skin alone or under makeup.
For more information visit www.epionce.com.
---
Environ® Skin Care
---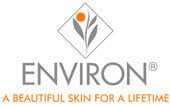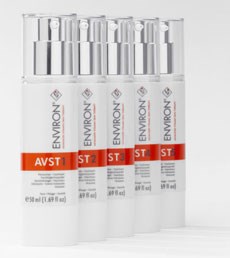 For skin care that makes a difference
Environ® skin care products have been formulated to combat and relieve the harmful effects of the harsh climatic changes of today's environment specifically pollution and ever-increasing doses of radiation from the sun due to the thinning of the protective ozone layer. Added to these are the modern-day effects of social and work stresses and poor diet.
We carry the following Environ products:
AVST 1-5
AVST cleansing lotion
AVST Eye Gel
AVST Gel
AVST Hydrating Exfoliant Masque
AVST Moisturizing Toner
AVST Pre-Cleansing Oil
C-Quence 1-4
For more information about Environ products, visit their website at: www.environ.co.za
---
NeoCutis® Skin Care
---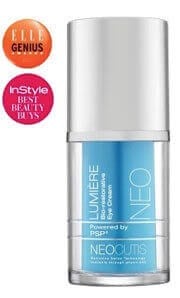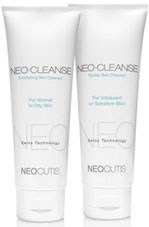 We carry the following NeoCutis products:
LUMIÈRE Eye Cream
Lumiere Eye Cream is an intensive line smoothing eye cream that revitalizes and rejuvenates the delicate eye area. Neocutis Lumiere is formulated with 30% more PSP, the most complete protein blend of Human Growth Factors, Cytokines and Interleukins available to smooth and soften the appearance of fine lines and wrinkles.
**Elle Genius Award Winner InStyle Best of Beauty Award 6 years in a row!
NEO-CLEANSE Gentle and Exfoliating Skin Cleanser
Glycerin rich clarifying cleansers help gently melt away make-up and surface impurities as skin is infused with a healthy dose of moisture.
Formulated without harsh sulfate detergents, dyes or fragrances for skin that feels fresh, clean and comfortable after cleansing. Specifically formulated to work together with NEOCUTIS skincare.
For more information about NeoCutis products, visit their website at: http://www.neocutis.com/


---
BabyFoot
---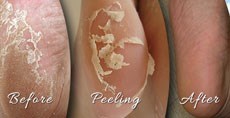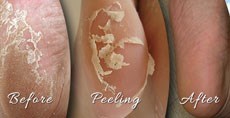 Baby Foot is an innovative foot care product that will make your feet as smooth and soft as a baby's foot. The unique formula of 17 types of natural extracts allow your feet to exfoliate naturally leaving them highly moisturized.
Baby Foot is designed to remove the unsightly, dead skin cells on your feet that build up over time and can contribute to numerous problems associated with the soles of your feet. Dead skin cells accumulate due to pressure and friction from ordinary activities such as standing, exercising, and wearing shoes. In many cases, feet become cracked and painful from the accumulation of dead skin.
This effective and gentle process removes the unwanted dead skin cells that have built up layer after layer. In addition, Baby Foot can improve other foot issues like: Foot Odor, Athletes Foot and Blood Circulation. So say goodbye to rough, dry, cracked soles, by using a product that really works!

For more information about BabyFoot, visit their website at www.babyfootusa.com
---
Topix Products
---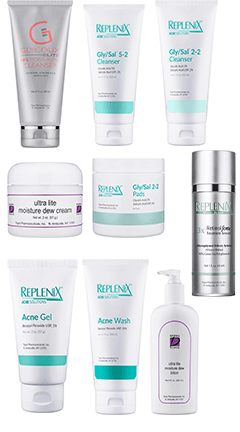 Topix Pharmaceuticals, Inc. products are developed using the highest quality, pharmaceutical grade ingredients to provide patients with system-based, results-driven, cosmetically elegant formulations.
Topix products are created and dermatologist tested to deliver safe, superior results in treating numerous conditions and patient skin types. The Topix FDA registered laboratory and manufacturing facility follows the most rigorous pharmaceutical manufacturing standards to ensure safe and effective formulations.
All Topix products are made in the USA – developed, manufactured, packaged and distributed under strict quality control monitoring.
We carry the following Topix products:
Replenix RetinolForte Treatment Serum 3x
Replenix Benzoyl Peroxide 5%
Ultra Lite Moisture Dew Cream
Ultra Lite Moisture Dew Lotion
Citrix® Antioxidant Pads
Replenix® Power of Three Cream w/ Resveratrol
Glycolix Elite 10% Moisturizing Cleanser
Replenix® Gly/Sal® 2-2 Pads
Replenix® Gly/Sal® 2-2 Acne Cleanser
---
SENTÉ Products
---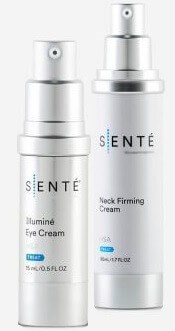 SENTÉ is driven by a sense of wonder and scientific discovery, looking to challenge the status quo in the skincare industry by providing dynamic, innovative products to customers and patients alike. Their powerful anti-aging products are clinically proven to provide impressive results that are easy even on sensitive skin.
With SENTÉ's Sulfated Glycosaminoglycan analog technology, customers can experience rapid rejuvenation and anti-aging benefits. These include hydration, reduced inflammation and redness, improved collagen production as well as dermal and epidermal repair.
We carry the following SENTÉ products:
Illuminé Eye Cream®
Neck Firming Cream
Learn more about SENTÉ by visiting their website! sentelabs.com
---
Sunscreen Products
---
Back to Top